Challenges Faced by People with Mobility Limitations
September 18, 2023, by Maria Lucia Delgadillo R.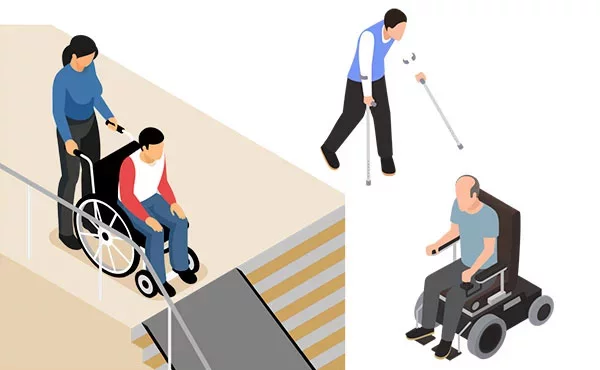 Every day, individuals with mobility limitations face a myriad of physical, emotional, and social challenges that significantly affect their ability to achieve complete independence in their daily activities. Currently, this is a situation that undeniably impacts the quality of life of those who live this reality. The Global Report on Assistive Technology states that "One in three people worldwide needs assistive products," and as a result, they face daily challenges ranging from physical obstacles to multiple social barriers and situations that significantly affect their personal well-being. It is clear that these aspects result in different consequences for their health and peace of mind as members of society. As Arenas & Güemes state in their study, "These challenges are reflected in significant gaps between people with disabilities and those without disabilities in areas such as community participation, access to healthcare, and education" (p. 1).
It is at this point that the need for comprehensive support services arises, providing the patient with a set of efficient solutions that can significantly improve their quality of life and mobility. Assertive support throughout the process of purchasing an excellent product with the best quality and features should prioritize granting independence to the user. Another fundamental aspect is the assertive and responsible attention that the product or service must provide to the patient, always aiming to offer effective solutions to specific needs in each case.
Providing a comprehensive service that offers the patient all the necessary information for their well-being is crucial. Currently, many people with mobility limitations do not know how to handle a situation, are unaware of access opportunities for equipment that can improve their quality of life comprehensively, or lack information about personalized products that provide greater independence and well-being. Educational information should allow users to understand each product's characteristics, from a cushion that can improve posture to a specialized chair for various conditions.
Creating mechanisms for accessibility to comprehensive assistive technology products and services is essential for any mobility limitation, as the Global Report on Assistive Technology (2022) affirms: "Between 10% and 69% of people reported needing assistive products."
Therefore, this article aims to respond to these primary needs in order to minimize the challenges faced by people with mobility limitations. It outlines the three fundamental pillars that should be considered when deciding to acquire a personalized, fair, and designed product that not only facilitates the patient's mobility but also provides the necessary tools for an independent life within their reach.
The Importance of Comprehensive Clinical Service
The first fundamental pillar that individuals with mobility limitations should seek is a comprehensive service whose main objective is to provide them with the precise solution for their specific condition. It is essential to have personalized clinical care that understands individual needs and guarantees both the patient and their caregivers a product tailored to the user's context. This should be the top priority.
Every day, individuals with mobility conditions, as well as their family members or caregivers, face multiple challenges, such as the lack of access and the inadequate adaptation of a social system and inclusive infrastructure. Effective products are those that work to minimize this impact through conscientious and responsible service in the entire process of production, sale, delivery of the product, and clear post-sale support for specific needs.
A comprehensive service should include professionals with extensive knowledge and experience in both the clinical aspect and the importance of human support for the patient and their family or caregiver. It is essential to be aware of the sacrifices people make to access support equipment that meets their specific needs, clinically helping the patient improve their quality of life in an affordable and effective way. This is one of the main challenges faced by people who want to access comprehensive clinical services, as affirmed by the Global Report on Assistive Technology: "People reported that the most common barriers to accessing assistive products were high costs, low availability, and lack of support."
Effective Technical Support Ensuring Proper Mobility and Independence
It is known that one of the most frustrating aspects for a patient is when their mobility devices do not function efficiently, especially when they lack the necessary knowledge to handle unexpected events.
Therefore, a comprehensive system should offer a technical team that guarantees the products used by each patient. They should offer a variety of high-quality products that also include preventive and corrective maintenance within their role, such as configuring the device, calibrating it, conducting reviews, making adjustments, among others. This support should cover minor adjustments to major repairs or modifications that may arise during the sales and post-sales process, allowing people to move with confidence and comfort.
Empowering with Knowledge
Education is one of the most powerful allies in improving mobility and well-being. This is why a comprehensive service must continually work to provide all the necessary knowledge about the products and how to maintain daily health. This is achieved through various strategies focused on improving the quality of life for all users, providing informative training opportunities through accessible channels.
Ensuring that users know the product, its features, and specific functions allows them to enjoy greater autonomy and ownership of the equipment they acquire, providing greater independence in their daily lives.
Therefore, Loh Medical constantly seeks to offer educational resources that cover topics from measuring for your wheelchair cushion to tips on maintaining proper posture and how to handle unexpected situations with the product. Without a doubt, Loh Medical's primary goal is to empower all its users to take complete control of their mobility and independence.
Quality of life is the most important
At Loh Medical, we comply with these fundamental pillars. This is why we work tirelessly to fulfill each of these characteristics in order to provide an excellent and personalized comprehensive service that not only addresses these basic needs but also improves the quality of life, offering greater mobility and autonomy from the very beginning.
These are some of the reasons that drive Loh Medical to continue its constant pursuit of improving the mobility of all its patients, as we are aware of the challenges that people face in their quest for an integrated and independent life.
References
Alberto Arenas de Mesa, and Javier Güemes. 2022.
"Presentación virtual: Desafíos y reflexiones en los sistemas de protección social para la inclusión laboral de las personas con discapacidad en América Latina y el Caribe." CEPAL.
https://www.cepal.org/es/eventos/presentacion-virtual-desafios-reflexiones-sistemas-proteccion-social-la-inclusion-laboral.
Unicef, and World Health Organization. 2022.
"Global report on assistive technology." Global report on assistive technology.
https://apps.who.int/iris/bitstream/handle/10665/354357/9789240049451-eng.pdf?sequence=1&isAllowed=.