Reference photos. They may contain variations depending on the type of product and personalization made.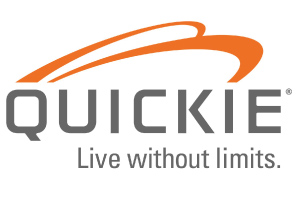 Quickie 2 Wheelchair
The ONE and only folding wheelchair
Versatile, modular, and available in an endless number of configurations, the Quickie® 2 has been the industry's favorite ultra lightweight manual wheelchair for over 25 years.


Features

Specifications

Downloads
Description
Frame Types Accommodate Changing Needs
Whether it's your first chair or your fifth, bodies and lifestyles change in different ways. The QUICKIE 2 features three different rear frame types, including straight, rounded, and a depth-adjustable back. One size doesn't fit all, but one chair does.
Most Seat-to-Floor Height Options
Why settle for reduced access to tables, awkward transfers, or foot rests dragging on the ground? The QUICKIE 2 has 18 available front seat heights and 19 rear seat heights to ensure you never have to settle for anything but the right fit.
Large Assortment of Seat and Frame Depths
Counting on nine seat depth frames, 11 frame widths, and eight different frame depths, the QUICKIE 2 is designed to fit you both today and tomorrow.
Largest Choice of Footrest Options
Is 11 different footrest/legrest options too many? We don't think so. We all sit differently in our chairs. We offer fixed-front and lift-off options for those who prefer a streamlined look and feel. And for those looking for extra clearance when transferring into or out of their chair, check out the swing-in/out options. Don't compromise on comfort to fit in your chair.
Specifications
Back Height
9" to 21" (22.9 cm to 53.3 cm)
Anti-Tips
Rear Anti-tips
Armrests
Adjustable Locking Flip-up (DAB)
Flip Back Height Adjustable Classic 
Flip Back Height Adjustable LITE 
Flip Back 
Length Adjustable Locking Flip-up (DAB) 
Padded Swing-Away 
Single Post Height Adjustable Low 
Single Post Height Adjustable Standard 
Axle
Quad Quick Release Steel
Quick Release Steel 
Back Upholstery
Depth Adjustable Solid Back 
JAY® GO Back
JAY® J3™ Back
Standard Nylon Upholstery
Tension Adjustable 3DX Vented
Tension Adjustable Ballistic
Caster Wheels
3" (7.6 cm Micro) 
4" (10.2 cm) Low Profile Polyurethane 
4" (10.2 cm) Micro Lighted 
4" x 1" (10.2 cm x 2.5 cm) Aluminum Poly
4" x 1.25" (10.2 cm x 3.2 cm) Semi Pneum
4" x 1.5" (10.2 cm x 3.8 cm) Aluminum So
5" (12.7 cm) Low Profile Polyurethane 
5" (12.7 cm) Micro lighted 
5" (12.7 cm) Soft Roll (Grey) 
5" x 1" (12.7 cm x 2.5 cm) Aluminum Poly
5" x 1.5" (12.7 cm x 3.8 cm) Aluminum So
5" x 1.5" (12.7 cm x 3.8 cm) Semi-Pneuma
6" (15.2 cm) Pneumatic 
6" (15.2 cm) Polyurethane 
6" x 1.5" (15.2 cm x 3.8 cm) Aluminum So
6" x 1.5" (15.2 cm x 3.8 cm) Semi Pneuma
7" (17.8 cm) Polyurethane 
8" (20.3 cm) Pneumatic 
8" (20.3 cm) Polyurethane 
8" x 1.5" (20.3 cm x 3.8 cm) Semi Pneuma
8" x 2" (20.3 cm x 5.1 cm) Pneumatic wit
8" x 2" (20.3 cm x 5.1 cm) Pneumatic 
Quickie 2 HP: 11" to 22"(27.9cm-55.9cm)
Chair Weight
Quickie 2 HP: 27.9 lbs. (12.6 kg)
Quickie 2 Lite Fixed Front: 25.5 lbs. (11.6 kg) 
Quickie 2 Lite Swing Away: 27.7 lbs. (12.6 kg) 
Quickie 2: 28.9 lbs. (13.1 kg) 
Footplates
Aluminum Angle Adjustable - Extension Mount 
Aluminum Angle Adjustable - Front Mount 
Aluminum Footplate - Fixed 
Composite Angle Adjustable 
Composite 
Platform Flip Up
Frame Material
Aluminum
Frame Style
Folding
Handrims
Aluminum Anodized 
Natural Fit - Standard Grip 
Natural Fit - Super Grip 
Natural Fit LT - Standard Grip 
Natural Fit LT - Super Grip 
Plastic Coated 
Projection - 8 Oblique
Spinergy Flex Rim 
Seat Depths
Quickie 2 Lite: 14" to 20"(35.6cm - 50.8
Quickie 2: 12" to 20" (30.5cm - 50.8cm)
Quickie 2HP: 10" to 20"(27.9cm - 55.9cm)
Seat Widths
Quickie 2 Lite: 4" to 20" (35.6cm - 50.8
Quickie 2: 12" to 22" (30.5cm - 55.9cm)
User Weight Capacity
Quickie 2 HP: 250 lbs. (113.4kg) 
Quickie 2/Quickie 2 Lite: 265 lbs. (120.2kg)
Quickie 2/Quickie 2HP Heavy Duty:350 lbs.(158.8kg)
Accessories
Black Spoke Guard 
Caddy 
Clear Spoke Guard 
Crutch Holder 
Extra Leg Strap Black 
Gel Cover Hanger/Frame 
Gel Cover Swing-Away Armrest 
Impact Guard Neoprene 
IV Holder 
O2 Holder 
Quickie Backpack 
Seat Pouch 
Tool Kit
Zippie Backpack 
Arm Pads
Desk Length - Classic 
Desk Length - Contour 
Full Length - Classic 
Full Length - Contour 
Average Shipping Weight
50 lbs. (22.7 kg)
Backrest Type
Angle Adjustable -15° to +3° - 3"|5" 7.6
Angle Adjustable -15° to +3° | 5" -
Depth Adjustable (DAB)
Standard 
HCPCS Code
K0005
Positioning Belts
1.5" (3.8 cm) Auto Buckle 
2" (5.1 cm) Aircraft Buckle 
2" (5.1 cm) Padded Aircraft Buckle
Shipping Dimensions
33" Lx38"Hx13"W (83.8 cm L x 96.5 c
Transit Approved
Yes
Wheel Locks
6" (15.2 cm) Extension Handle Pair
Arm pad Foam - Long
Arm pad Foam - Short 
Compact 
Ergo Scissor 
High Mount Pull 
High Mount Push 
Angle Adjustable Backrest
-15° to +3°
Anodized Color Options
N/A
Axle Plate
Amputee Adjustable 
Curved Adjustable 
Offset Adjustable 
One Arm Drive
Standard Adjustable 
Back Post Options
7" (12.7 cm - 17.8 cm) Pivot Height 
Angle Adjustable Straight Push Handle 
Depth Adjustable Back - Post Medium 
Depth Adjustable Back - Post Standard 
Depth Adjustable Back - Post Tall
Depth Adjustable Back Swing Away Stroller Handles 
Push Handle 8° 
Push Handle Straight 
Regular Stroller Handles 
Tall Stroller Handles 
Backrest Options
Reinforced Upholstery
Stabilizer Bar 
Camber
0°, 3° standard
Caster Options
Caster Pin Locks
Footplate Options
Extension Tubes
Heel Loops 
Leg Strap 
Frame Angle
Quickie 2 Lite Fixed Front: 70° or 80°
Frame Color Options
Desert Camouflage 
Hot Sparkle Pink 
Matte Black Cherry 
Matte Black 
Matte Electric Blue 
Matte Evergreen 
Matte Purple 
Mauve Pink 
Mossy Oak Camouflage 
Silver Texture
Sparkle Silver 
Stars & Stripes 
Sunrise Orange 
Titanium Color Paint 
Yellow 
Frame Inset
N/A
Frame Type
70° Fixed Front Frame 
80° Fixed Front Frame
Depth Adjustable Back (DAB) 
Heavy Duty 
Rear Side Frame Rounded 
Rear Side Frame Straight 
Front Seat-to-Floor Height
13.5" to 22" ( 34.3cm - 55.9cm)
Grade Aid
Grade Aid
Hangers
60° Hemi Swing In/Out Hanger
60° Swing In/Out Hanger
70° Hemi Swing In/Out Hanger
70° Swing In/Out Front Mount 
70° Swing In/Out Hanger 
80° Swing In/Out Front Mount
80° Swing In/Out Hanger
90° Swing In/Out Front Mount Articulating Hanger
Elevating Hanger
Elevating Hanger Front Mount
Hub Lock
N/A
Lower Leg Length Setting
5.5" to 20.5" (14 cm to 52.1 cm)
Military Service Patches
Air Force 
Army 
Coast Guard 
Marines 
Navy 
Purple Heart
Model Number
Quickie 2/Quickie 2 Lite: EIQ2N
Power Assist
(not available on Quickie 2 Lite)
Quickie Xtender™ with 4x Torque Multiplier
SPARE 24"(61 cm) Spoke Pneumatic Plastic 
SPARE 61 cm Spoke Pneumatic Alum 
Xtender Spare Nimh Power Pack 
Rear Seat-to-Floor Height
13" to 22" (33 cm to 55.9 cm)
Rear Wheel Tire
Full Poly 
High-Pressure Clincher 
Knobby V-TRAK 
Mountain Tire
Pneumatic with Airless Insert 
Pneumatic 
Schwalbe® Marathon Plus Evolution 
SHOX® Performance Poly 
Rear Wheel Type
20" (50.8 cm) Lite Spoke Wheel 
20" (50.8 cm) Mag Wheel 
22" (55.9 cm) Lite Spoke Wheel 
22" (55.9 cm) Mag Wheel 
22" (55.9 cm) Spinergy LX Black 
22" (55.9 cm) Spinergy SPOX Black 
22" (55.9 cm) Ultra Lightweight Spoke Wheel 
24" (61 cm) Lite Spoke Wheel 
24" (61 cm) Mag Wheel 
24" (61 cm) Mountain
24" (61 cm) Spinergy LX Black 
24" (61 cm) Spinergy SPOX Black 
24" (61 cm) Ultra Lightweight Spoke Wheel 
25" (63.5 cm) Lite Spoke Wheel 
25" (63.5 cm) Spinergy LX Black 
25" (63.5 cm) Spinergy SPOX Black 
26" (66 cm) Lite Spoke Wheel 
26" (66 cm) Spinergy LX Black 
26" (66 cm) Spinergy SPOX Black 
Seating
2" (5.1 cm) Cushion 
JAY Cushions/Backs
Seat Sling 
Side Guard Options
N/A
Side Guards
Plastic - Low
Plastic - Standard 
Special Packages
N/A
Suspension
Frog Legs Suspension Fork
Tilt Range
N/A
Tilt Release Options
N/A
Tray Tables
Large 
Medium 
Small 
X-Large
Center of Gravity Adjustment
-1" to 4.5" (-2.5 cm to 11.4 cm)
Brand
Quickie
X
Measures
Wheelchairs
A) Deep
B) Back height
C) Width