Reference photos. They may contain variations depending on the type of product and personalization made.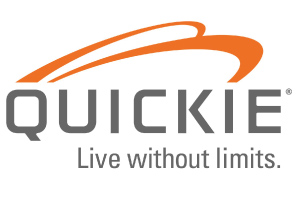 QXi Wheelchair
Simplified by Quickie. The Quickie® QXi™ is a durable, low-maintenance frame that is perfect for the person looking for simplicity, longevity, and Quickie's most popular options at the right price.
Features

Specifications

Downloads
Description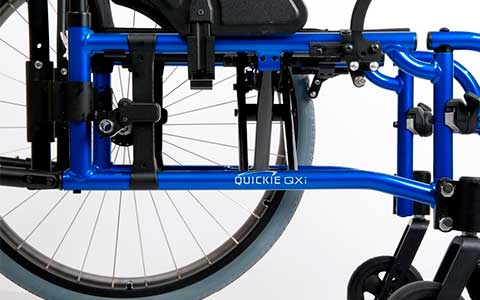 Durable Frame Design
The QXi's utilitarian, 265 lbs. (120.2 kg) weight capacity frame is built to last. During its rigorous durability testing, the QXi™ frame emulated 20 years of reliable performance! Its one-piece side frames and three-arm crossbrace that locks inside the side frames reduce moving parts and give this folding wheelchair a more rigid ride quality.
Simple Serviceability
The QXi™ is remarkably easy to service. Many of its most common adjustments, including center of gravity, seat height, camber, and back height, can be made in less than one minute and using only one tool. The QXi's low-maintenance design will have you back to what you love in no time.
Low Seat Heights
Whether you are foot propelling or eating dinner with your family, the QXi's super low seat heights give you the freedom to move about your environment with ease. A 13" (33 cm) seat height can be achieved with 5" (12.7 cm) casters, which give you the ability to maneuver over thick carpet or outdoor obstacles.
Specifications
Back Height
13" to 20" (33 cm to 50.8 cm)
Anti-Tips
Rear Anti-tips
Armrests
Dual Post Flip Back Height Adjustable
Flip Back Height Adjustable LITE 
Padded Swing-Away 
Single Post Height Adjustable Low 
Single Post Height Adjustable Standard 
Axle
Quad Quick Release Steel
Quick Release Steel 
Back Upholstery
J3
Standard 
Tension Adjustable 3DX Vented 
Tension Adjustable Ballistic Nylon 
Caster Wheels
4" (10.2 cm) Low Profile Polyurethane 
4" x 1.25" (10.2 cm x 3.2 cm) Semi Pneum
5" (12.7 cm) Low Profile Polyurethane 
5" x 1.5 " (12.7 cm x 3.8 cm) Semi-Pneum
6" (15.2 cm) Polyurethane 
6" x 1.5" (15.2 cm x 3.8 cm) Semi Pneuma
8" (20.3 cm) Polyurethane 
8" x 1.5" (20.3 cm x 3.8 cm) Semi Pneuma
Chair Weight
28.8 lbs. (13.1 kg)
Footplates
Aluminum
Aluminum Angle Adjustable 
Composite 
Frame Material
Aluminum
Frame Style
Folding
Handrims
Aluminum Anodized 
Natural Fit - Standard Grip
Natural Fit - Super Grip
Plastic Coated
Seat Depths
14" to 20" (35.6 cm to 50.8 cm)
Seat Widths
14" to 20" (35.6 cm to 50.8 cm)
User Weight Capacity
265 lbs. (120.2 kg)
Accessories
Black Spoke Guard 
Caddy 
Crutch Holder
Gel Cover Hanger/Frame 
Gel Cover Swing-Away Armrest 
Quickie Backpack 
Seat Pouch 
Arm Pads
Desk Length - Classic 
Full Length - Classic
Average Shipping Weight
50 lbs. (22.7 cm)
Backrest Type
Angle Adjustable
Standard 
HCPCS Code
K0005
Positioning Belts
1.5"(3.8 cm)Auto Buckle Clamps
Positioning Belt Side Clamps
Shipping Dimensions
33"Lx38"Hx13"W(83.8cmLx96.5cmHx33cm
Transit Approved
Yes
Wheel Locks
6" (15.2 cm) Extension Handle Pair
Compact 
High Mount Pull 
High Mount Push 
Angle Adjustable Backrest
-14 to +5°
Anodized Color Options
N/A
Axle Plate
Standard
Back Post Options
Fold-Down Push Handles
Integral Push Handles 
Backrest Options
N/A
Camber
0° and 3°
Caster Options
N/A
Center of Gravity Adjustment
1" to 3" (2.5 cm to 7.6 cm)
Footplate Options
Extension Tubes
Heel Loops 
Frame Angle
N/A
Frame Color Options
Candy Blue 
Frame Inset
N/A
Frame Type
Standard - Hemi
Front Seat-to-Floor Height
12.5" to 19.5" (31.8 cm to 49.5 cm)
Grade Aid
N/A
Hangers
60° Swing In/Out Hanger 
70° Swing In/Out Hanger 
80° Swing In/Out Front Mount 
Articulating Hanger
Elevating Hanger
Elevating Hanger Front Mount
Elevating Legrests (Front Latch) 
Hub Lock
N/A
Lower Leg Length Setting
11.25" to 16.5" (28.6 cm to 41.9 cm)
Military Service Patches
Air Force 
Army 
Coast Guard 
Marines 
Navy 
Purple Heart
Model Number
EIF6
Power Assist
N/A
Rear Seat-to-Floor Height
12" to 19" (30.5 cm to 48.3 cm)
Rear Wheel Tire
Full Poly 
High-Pressure Clincher
Pneumatic with Airless Insert 
Pneumatic 
Rear Wheel Type
20" (50.8 cm) Lite Spoke Wheel 
20" (50.8 cm) Mag Wheel 
22" (55.9 cm) Lite Spoke Wheel 
22" (55.9 cm) Mag Wheel 
24" (61 cm) Lite Spoke Wheel 
24" (61 cm) Mag Wheel 
25" (63.5 cm) Lite Spoke Wheel 
26" (66 cm) Lite Spoke Wheel
Seating
Seat Sling Depth Adjustable
Side Guard Options
N/A
Side Guards
Plastic - Standard Plastic - Low
Special Packages
N/A
Suspension
N/A
Tilt Range
N/A
Tilt Release Options
N/A
Tray Tables
N/A
Brand
Quickie
X
Measures
Wheelchairs
A) Deep
B) Back height
C) Width